I know how hard it is to find the best device for your need at this price range. I had bought an Inkjet Printer myself and for that, I did thorough research. I think I found a lot of new information out of my research which I have shared with you all in this post. I have listed down the Best top 5 Inkjet Printers under Rs. 15000that I found in the Indian market as of.
I would like to state it one more time that, I have done thorough research on all of these printers and you will appreciate it once you start reading about it.
The objective of this post is to help you choose the best printer based on your needs and preferences. If any of the below printers resonate with your preference then do let me know in the comments section below. Please let me know if this information is helpful for you and how can I make it even better. It's shopper time (Y)
List of all the printers discussed in the this article:
Note: Links are crossed based on their unavailability in amazon store. (if crossed)
Please let me know if this information was helpful for you or Is there anything else by which I can make it even better.
Features:
Wireless LAN
Access Point Mode
Mobile and Cloud Printing
High Page Yield Ink Bottles
Integrated Ink Tank System
I think most of you might be aware of the Canon. Canon is one of the most reliable players in the market when it comes to electronic products such as Printers, Camcorders and cameras.
The service is top notch with 24×7 support related to any of your query. This is one less thing to worry about before selecting any product that belongs to Canon.
The brand plays a vital role in its quality control and service.
Canon is a brand of my choice. I really love its product and recommend it to others as well. Now let's talk about the Features one-by-one.
Wireless Lan
The printer has the feature for connecting to a wireless LAN network. This enables you to use a printer through the network. Any computer connected to the same network may give a print command to the printer.
Suppose, you have a wireless LAN network at your house. You use multiple devices to connect to that LAN Network. Now, you have completed working on a text from your computer. You saved it in your google drive. You can now use your mobile phone connected to the same network to issue a print request to the printer (given printer is configured properly).
This is an essential feature especially in today's world where there are multiple devices under the same roof. This saves all the hassle for connecting to the printer every time you want to take out a printout.
Access Point Mode
It is yet another essential feature which will be used in case there is no Lan Network or router access point. It simply enables you to print from that printer simply by connecting your mobile or computer to it directly. There might be at times when your LAN Network is down. In that case, this is a reliable solution to use your printer as an access point to continue with your work.
Now printer acts as a WLAN network and you can directly connect your device to it using your wifi. Cool feature to have.
Mobile & Cloud Printing
This is a 2017 feature, it makes use of cloud technology to connect your hardware (printer) with the cloud.
Cloud printing is so powerful that you can replace an enterprise printing architecture with this one. It offers other tonnes of feature out-of-box. This printer could be used with Google Cloud Printing service.
The power lies in its ability to issue the print command from anywhere in the world. Once you connect your printer to the Google Cloud Printing platform, it will automatically enable you to issue the command from anywhere in the world.
You can also share the printer with the trusted people so that they can also use the same printer to work with. Once you issue a print command it gets queued in the Google's Print queue and then executes it one after the other.
Now, distance is not a thing between you and your printer. I really find it one of the essential features as most of the time I'm out of my house and then when I come back home, I find all the printed pages. That makes me happy 🙂
High Page Yield Ink Bottles
I think most of you might not be fully aware of the two types of Ink cartridges that come with the printer.
Mostly there are two types of Ink cartridges you have heard off. First is the Standard Cartridge and another one is High Yield Cartridge. The major difference between these two cartridges is the amount of print material in it.
High Yield Cartridge tends to print high-quality content compared to Standard Cartridge. It is simply because it has more printing material. These are more costly as compared to standard cartridge because they provide better print quality and more mileage.
If you print frequently and you use more than two Ink bottles in less than a quarter then I will strongly recommend you to use High Yield Ink Cartridge because it has a better print mileage.
You will pay less for every print as compared to Standard and in the long run, you will save more money with High Yield Ink compared to Standard Ink.
I hope it is clear to you now.
There is another thing to do with the shelf life of the Ink bottles. If you use printer occasionally then you must go with Standard Ink Bottles as it will cost you much less. It all depends on usage.
Customer Satisfaction
It has an overall rating of 4.2 in the Amazon store which is really good in terms of the printer. There are a lot of good reviews about this printer at the end.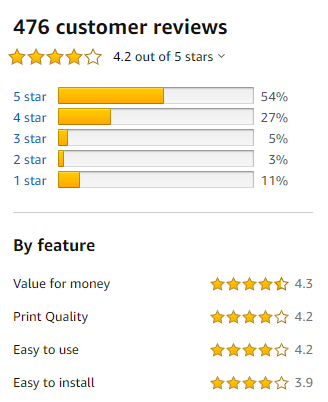 But also there are some cons as stated by the user of this printer. I would like to make it more clear about the cons of the printer as it is very important to know each and everything about the product before investing. However, I couldn't find many complaints about the product anywhere on the entire internet, I have still tried to make it clear by the little that I got. I have mentioned below:
Paper Loading is not done properly: I read it in the review section by two or three people that paper loading was not done properly. This is not at all the case. What they were trying to say that if they switched on the printer, it automatically took the paper in and started printing. The reason behind that is not the fault with the printer but the fact that Printer was powered down or stopped in between the processing. So when it was Switched on the next time, it found itself in the same state and complete the process. It is very normal and happens with every printer. No need to worry about it at all.
Not as good as Laser Printer: I would recommend you to compare this printer with the printers in the same league. There is no point in comparing it with the Laser printer as both are completely different print technology. This printer is very good in terms of print quality. It can print at the resolution of 4800 (horizontal)*1 x 1200 (vertical) dpi. That is a pretty good number. I would not want you to worry about the print quality of this printer. It is one of the best in the market at this price range.
Wifi Stops Working Intermittently: This issue has been observed and most of the time it because it was left idle for a long time. It is an inbuilt functionality in most of the devices, that they disconnect or go to standby mode. If you suddenly give the print command in this period, you will find that the printer's wifi is not connected to the network. You will have to wait for some time. It is not a serious concern and I do not want you to worry about it.
I strongly recommend Canon Pixma G3000 to everyone who is currently reading this article. It is a very good printer for you day to day need. IF you want to know additional information regarding the size and warranty of this product, you may visit the Amazon website and check it there. I hope it helped.
Features:
Good Print Quality and print speed
1,200 x 2,400 dpi Optical Resolution
Input Capacity: 100 sheets, A4 Plain paper (75 gsm) 20 sheets, Premium Glossy Photo Paper
Output Capacity: 30 sheets, A4 Plain Paper 20 sheets, Premium Glossy Photo Paper
Paper Size: A4, A5, A6, B5, 10 x 15 cm (4 x 6 in), 13 x 18 cm (5 x 7 in), 9 x 13 cm (3.5 x 5 in), Letter (8 x 11 in), Legal (8 x 14 in), 100 x 148 mm, Envelopes: #10, DL, C6
Epson Connect: Epson iPrint, Epson Email Print, Remote Print Driver
High Yield Ink
Similar to Canon Pixma G3000, Epson L385 also has High Yielding Ink. It is really good when it comes to value for money. You get more performance and mileage in the long run. Also, the print quality is the optimum and if you are a heavy user e.g. you consume 2 ink bottles in less than a quarter then you must consider this fact strongly. The high yielding ink will cost you less in the long run (cost per print is low) as compared to standard ink.
Epson Connect is Cloud print and scan service for Epson printer. This is the latest technologies that are trending everywhere and you must absolutely look for this feature in every printer. It enables you to print & scan from anywhere across the world. Now, one may ask what is the need for this functionality. You can always go home and print later.
The reason why you should consider this feature as a priority because it enables you to connect seamlessly with multiple devices.
Another reason to use Cloud connect is the need of the era. We are living in the world of web 3.0 where everything is generating data. It is only intelligent to be with the trend and make use of the internet as much as you can.
This technology is ever going to evolve in the future.
Yet another benefit of this technology is security. You can easily share the print writes with only the subset of people you want. Not everyone will be able to use your printer except the selected few.
The benefits will evolve in the coming days and years and it is best you make the switch with your next printer and get versed with the change.
Good Print Speed
It is good that they have provided a page speed for their printer. This is very useful, find it below,
Draft, A4 (Black / Colour):Up to 33 ppm / 15 ppm
ISO 24734, A4 Simplex (Black / Colour):Up to 10 ipm / 5.0 ipm
Photo Draft: Approx. 27 sec per photo (with Border)
Photo Default: Approx. 69 sec per photo (with Border)
As you can see, this printer is fast when it comes to printing a Draft. For those of you who are not acquainted with the word Draft, let me tell you it is an economy quality print which prints the paper at the fastest speed with less ink and low quality. This is usually used when you have to take out a photocopy of your electric bill, or licence or Pan card to give it to someone or a simple test print. It is not good for any kind of written document that would be used further as a contract or similar place.
Bottom line- it is faster than other printers when it comes to print Draft. If you know what will be the use of your printer, you can select a priority for these features as per your usage. If you are going to use it for the home purpose than speed would not make much of a difference.
Good Print Quality
The print quality on this printer is really good. Find the quality stats below,
Print Method: On-demand ink jet (Piezoelectric)
Maximum Print Resolution:5,760 x 1,440 dpi
Minimum Ink Droplet Volume:3pl
Automatic Duplex Printing: No
On Demand Ink Jet (Piezoelectric)
These terms do sounds rare but it is the latest technology used in the printer. To explain to you what it actually is, I will have to deep dive into my engineering days and explain to you what is Piezoelectric Effect. Okay so let me explain it to anyway.
The piezoelectric effect is a property of a material to vibrate when the AC voltage is supplied to it. This property is very well used in the printers to inject ink on demand.
On-demand means whenever there is a need for ink, it will be there. This is realised in the printer by using this phenomenon.
Ink is kept between the Piezoelectric material and a charge is passed through the material. As a result, the material is compressed and stretched pushing the ink through the nozzle, thus the ink is injected out.
This offers a consistent printing with more accuracy and less ink. More accurate printing is guaranteed with this technique and the good thing is the ink is not dependent on thermal reaction rather it depends on its own property of absorption which makes it more flexible for engineers to perform multiple chemical reactions with the ink to make the most out of it. Phewww.. I talked a lot, I hope you got the point of all this and why this technology plays an important role when it comes to print quality.
Here is a wonderful short video that explains how it is done.
I would definitely recommend Epson L385 when it comes to the print quality, usage, reliability, brand and service. It provides value for every dollar you put in.
You can definitely choose this printer based on your requirement and budget. If you have any question or unexplained term, please do comment below. I would love to help you with it.
It incorporates all of the features that I talked about for different printers. But there is one thing which makes this printer different from others. It has a Ink Tank System which holds the ink externally. You can see that in the image above. Let's take a list of features:
Features:
Functions: Print, copy, scan, wireless
Extremely low cost per page (Black: 9paise, Color: 19paise); Print up to 8,000 pages with a set of three HP colour bottles or up to 5,000 pages with an HP black bottle
Wi-Fi Direct printing; Print from a variety of mobile devices; Easy setup from mobile device
Spill-free Replenishment system
Fast, easy setup (Free Installation by HP for this Ink Tank Printer. Please call the call center at 1800 200 0047 post receiving printer)
Extremely Low Cost Per Page
Indeed HP GT5820 has taken a step forward by introducing the Ink Tank system to further reduce the cost of the printing. There are a few more benefits to Ink Tank system.
Easy Refill as there are no cartridges
Separate section to store ink bottles
It can take on very large expensive print task
This feature was first introduced for businesses but after some retrofitting to some of the existing models it was introduced for the consumer grade market. If you are a bulk printer and looking for an affordable solution than without a doubt go with this printer. It will offer you some of the best features in Low Cost. I highly recommend this printer to people who owns a cyber cafe or requires printing in bulk.
Spill-free Replenishment System
It is gettable from the name itself – Spill Free. The ink filling process is bliss. It would be easy for you and at the end you won't find your hands colored with ink. The filling system is really easy. Just pop open the tank caps and directly fill the ink into them by inverting the HP Ink bottle into it. The capacity is small. Close to 10ml and it is really easy.
Before Spill free ink replenishment system, you had to either change the entire cartridge or you have use the dirty hack to push the ink inside with the help of an injection needle. That was clumsy and it required certain expertise but with ink tank system ink replenishment is real easy.
Features:
Print speeds up to 10 ipm
600 x 1,200 dpi Optical Resolution
Paper Size: A4, A5, A6, B5, 10 x 15 cm (4 x 6 in), 13 x 18 cm (5 x 7 in), 9 x 13 cm (3.5 x 5 in), Letter (8 x 11 in), Legal (8 x 14 in), 100 x 148 mm, Envelopes: #10, DL, C6
Does not have WiFi Connectivity
This one was tough for the spot. It has all the features of Epson L385 except a few. I have researched for the major differences between these two printers from the same family and found that Epson L380 does not have a WiFi Connectivity. That means you cannot connect it to your wifi network. You will have to use this printer at a single place close to your desktop and issue commands using USB connectivity. You will lose the freedom of independent placing and also you will have to connect it with USB. You will have to perform a lot of manual configuration before you give a print command in this one.
Also, you will have to connect your mobile phone with this printer with the help of USB and then fire a print command. I would not suggest this printer to someone who likes to have a freedom of device independence and also location independence.
Low Optical Resolution compared to Epson L385
Another difference between L385 and L380 is its optical resolution. Epson L385 offers a higher optical resolution. Epson L380 has 600 x 1200 dpi Optical Resolution whereas Epson L385 has 1,200 x 2,400 dpi Optical Resolution. Although, a 600dpi resolution is not at all bad. You don't need that much resolution often times but if you are a pro and you need to print a perfect photograph on a paper then 1200dpi is a like a blessing.
Bottom line: if you are an average user who does not need extra high-resolution printing then this printer will satisfy all your needs. The drawback of this printer is that it does not have WiFi connectivity. Although, I think they could have given the WiFi connectivity by increasing its price by 1000 bucks. I will leave it to your convenience.
Features:
ISO Standard A4 Print Speed: Up to 5.0ipm for color prints and 8.8ipm for mono prints
Prints a 4×6 inch borderless photo in 60 seconds
Features:
Print speed up to 33ppm (13.7ipm)
Warranty of 1 year or 50,000 pages, whichever comes first
Specifications
Print Technology
Print Method: PrecisionCore Print Head
Maximum Print Resolution:?4800 x 1200 dpi
Minimum Ink Droplet Volume:?3.3pl
Automatic Duplex Printing:?Yes
Control Panel:?2.2″ Mono LCD
Print Speed
Draft, A4 (Black / Colour):?Up to 33ppm / 20ppm
ISO 24734, A4 Simplex (Black / Colour):?Up to 13.7ipm / 7.3ipm
ISO 24734, A4 Duplex (Black / Colour):?Up to 6.5ipm / 4.5ipm
Photo Default:?Approx. 69 sec per photo (with Border)
Copy Function
Copy Resolution:?600 x 600 dpi
Max Copies:?99 copies
Reduction / Enlargement:?25 – 400%, Auto Fit Function
Maximum Copy Size:?A4
Automatic Duplex
I'm not sure whether you are aware of the Duplex feature in printers. Let me tell you what is Duplex printing feature.
Duplex printing is a feature that allows printers to print the paper both side. Automatic Duplex means that the printer will print the paper both side without human intervention. Just set the parameters and let the printer print it for you. This feature is found in Multifunction Printers (MFP) on the high consumer end devices.
It makes use of the software to understand how the paper needs to be printed and then prints accordingly. It is a great time saver if you are required to print a small size book or print documents on both the side of the page.
I would strongly recommend you Epson L605, although, the price on this printer is slightly higher than others it actually outperforms all the printers at this price range.
It is one giant machine built to provide you with value and quality. On top of that, this printer belongs to Epson which is one of the leading industry when it comes to providing service and customer relation. I really think this printer will keep you happy. I know the price could be an issue but if you could afford it, you should. After all its a one time purchase for the next 5 years 🙂
Let me know if you found this article helpful and expect similar ones in the future. Also, share your knowledge and research in the comments below. It helps me to provide the best value to my visitors (i.e. YOU). If you liked it then please share it in your friend's circle as it will help this article to reach many people.
You might also be interested in: